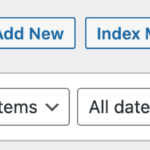 When sorting the file size column, it shows no results?
This is quite common on new installations that have never pressed the Index Media button. In order for the ordering to work as quickly as possible, you must index the media library first.
To do so, simply press the Index Media button.

There are no comments, be the first!
Questions? Leave your response...